More than just a beautiful sign.
Weekend Directional Signs and More for Home Builders.
Your signage system is the critical link between your online marketing and your sales office.
When you work with Arrow Graphics, you get more than just a beautiful sign. You connect the home buying experience and get more weekend traffic in your subdivision.
With strong government relationships throughout Arizona and Colorado and the largest national footprint in the home builder signage industry, we design weekend sign strategies and branded marketing platforms that drive more of the right homebuyers to your sales office and model homes.
Sell more homes with Arrow Graphics.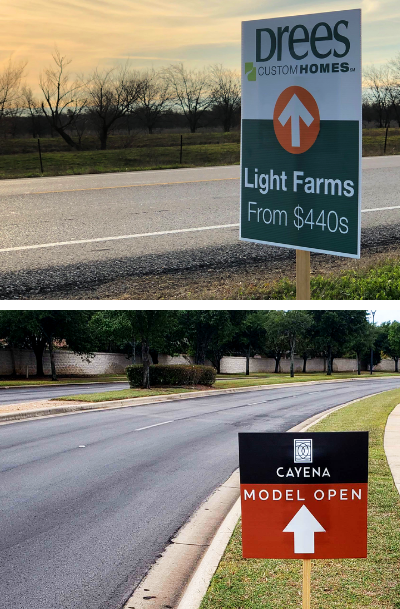 More Weekend Traffic,
More Home Sales.
Arrow Graphics is more than just a beautiful sign. We don't measure our success by the number of signs we place. We measure it by the number of homes you sell.
The Arrow Graphics Route Algorithm™ is our proprietary methodology for delivering your message through your weekend sign strategy. Our strategic approach leads more of the right buyers to your subdivision's sales office and model homes.
Your Single Partner for
Residential Signage.
Many sign companies manage one signage type but not the others – creating multi-vendor management challenges for you as a home builder.
Arrow Graphics is staffed to oversee all signage required for your new subdivision, sales offices, and model homes.
By expertly handling all your signage needs – from offsite permitting and strategic mapping to design and fabrication – we give you more time to get more done.
Discover what Arrow Graphics can do for you!
Let's get started. Contact us today.
COLORADO: 303.790.8944
ARIZONA: 480.968.2959